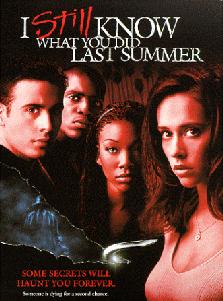 Director - Danny Cannon
Budget- $ 24,000,000 (USA) ( Estimated)
Opening Weekend- $16,520,038 (2443 Screens),(USA), £802,498 (279 Screens) (UK)
Gross-
$39,989,008 (USA),
£2,657,571 (UK)
Synopsis- The murderous fisherman with a hook is back to once again stalk the two surviving teens, Julie and Ray, who left him for dead, as well as cause even more murder and mayhem, this time at a posh island resort.
I
n the opening scene there is a close up of a statue of The Virgin Mary, which then pans towards a statue of Jesus symbol, these shots straight from the beginning show a religious element in the film, and is an anchor to the location being a church. This could maybe signify sin and redemption in the film, as the people being killed in the slasher may have done something wrong and need to be punished.
The next shots that we see are that of a brunette girl which
the audience could see as possibly being the 'final girl' from the prequel walking down the
aisle in a church, alone and isolated. The lighting used is bright white light gleaming through the window, this could possibly signify that the girl is dreaming.
The next scene is of a conversation between Julie and the Priest ( who was in actually fact the mysterious ' Hook Killer from the previous film), the lights are dimmed and all the focus is on the faces of the two characters, the rest of the setting is just in darkness, the darkness could symbolise isolation and loneliness, and the dimmed light could symbolise somebody is watching her.
Youtube Trailer Link For I Still Know What You Did Last Summer -
http://www.youtube.com/watch?v=EcWK0M4VMjA
I.M.D.B - http://www.imdb.com/title/tt0130018/